Working to ensure that people with developmental disabilities enjoy the same quality of life as the rest of society.
What is a Developmental Disability?
Developmental disabilities are chronic disabilities that are attributable to mental or physical impairments apparent before the age of 22. These disabilities tend to be life-long and result in substantial functional limitations in major life activities such as self-care, receptive and expressive language, learning, mobility, self-direction, capacity for independent living and economic self-sufficiency.
However, this definition does not begin to define the abilities and lives of people with disabilities. People with disabilities are also mothers, fathers, brothers and sisters. They laugh and cry, go to school, hold jobs, pay taxes, play sports, get married and have children. People with developmental disabilities are poets and playwrights, business leaders and professionals, athletes and advocates. They, like everyone else, are complex individuals with hopes, dreams and special challenges
The Developmental Disabilities Assistance and Bill of Rights Act of 2000.
Partners in Policymaking Program Class of 2020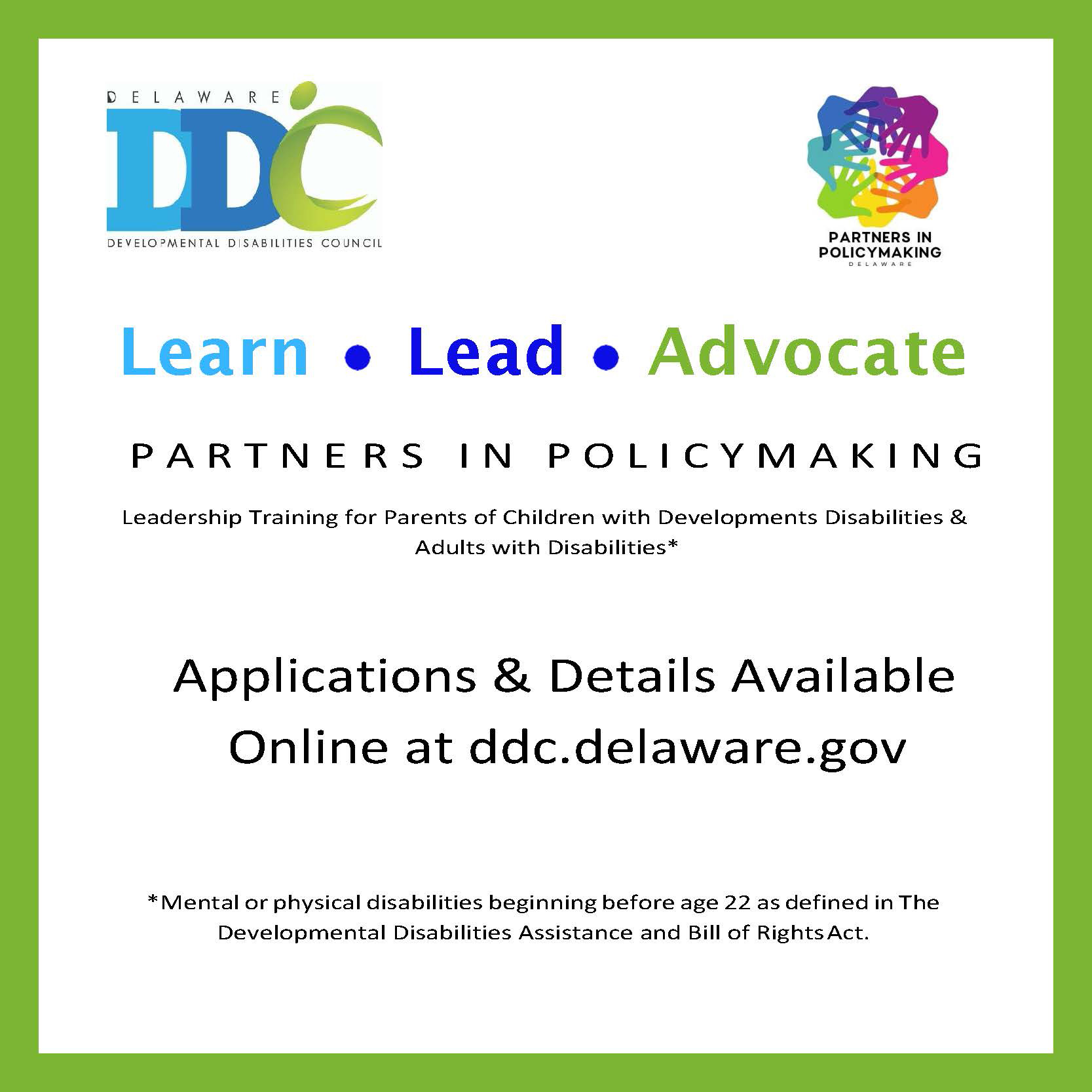 We are now accepting applications for the 2020 Partners in Policymaking Program.
The Partners in Policymaking Program is for individuals with disabilities or parents of individuals with disabilities who are 22 years old and older. The program will teach you how to advocate for yourself and others.
For more information about this amazing leadership program, please visit our Partners in Policy Making page. If you have questions, please email Kristin Harvey or call our main office at (302) 739-3333.
To be considered for the program, please fill out and return the 2020 Partners in Policy Making Application by the deadline.
The deadline to apply is February 28, 2020.